Custom Options
Visualize grantmaking activity with a customized version of Foundation Maps.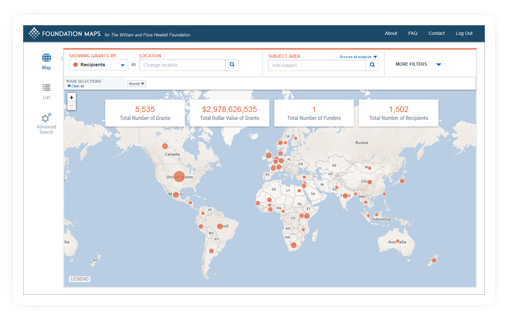 eReporter Map
FREE
See your grantmaking come to life with a complimentary version of Foundation Maps for submitting your grants data through our eReporting Program. The data set for this individual map will include your cleaned and coded grants information on the Foundation Maps interactive platform. Use your eReporter Map for internal purposes with your board and staff or choose to share in your annual report, presentations, or on your website. View sample map
Become an eReporter and receive your map
Already an eReporter? Contact us to get your map.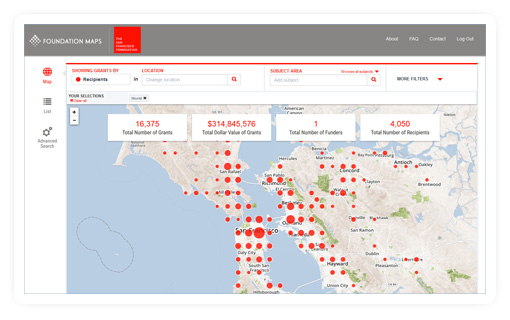 Enhanced eReporter Map
Starting at $750/year
Choose from an array of options to customize your free eReporter Map. Display your organization's logo and colors and highlight the issue areas and geographies most important to you. View sample map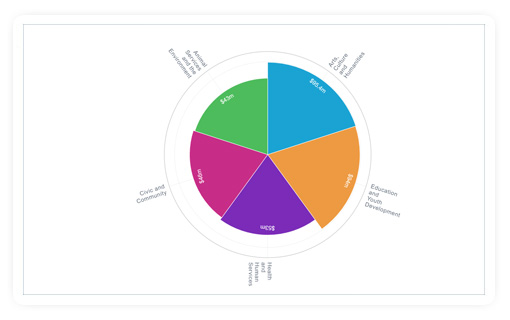 Highly Custom Map
Partner with Candid to customize an interactive data visualization tool for your funding organization or a network of funders. Tailor the platform to fit your data, taxonomy, and interface requirements. View sample map